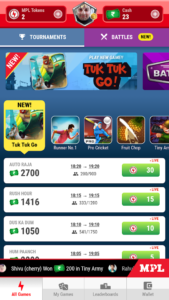 JOINT VENTURE BETWEEN ALIBABA GROUP'S AGTECH AND PAYTM is the first game of Paytm in which investores raise $25million. This app offers casual and social games in Paytm's app. The portal is planning to use the fund to invest in technolnogy and for building esporting events. More games are going to add for users which makes fouble the current team size.
Gamers can win paytm cash, movie tickets, flight tickets, and more things by playing the games and quizzes. More games like kabadi, cricket, rummy,etc are going to include in this game
Over 30 million registered users has been announced by the comany in this year on May after just a year of lauch. Revenue run rate of $50 million has been currently done by the company.
ABOUT GAMES
Games are having high quality of graphics. No problems are seen while playing games. In normal android phoes any user can register and play games without having any querry. Specialty of this app is that new games are introduce to this app in very short periods of times. In addition to these you will daily get new challenges with new reward. Peoples are earning very well in these games. Users are loving this games due to which users are getiing daily.
YOU MAY ALSO LIKE-