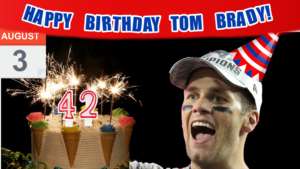 Tom Brady, the wonderful player who just turned 42 is still ready to play his next match.  No one can stop this man. At this age also he is showing his full potential. He has stopped ageing 10 years ago and this Saturday he celebrated his 42nd birthday. There is very few quarters who has ever made this far to their 42nd birthday while still playing in the NFL and still productive on the field.
Brady is so old that he is the almost oldest player in the NFL this year. Adam Vinatieri and Matt Bryant are the only ones who are older than Brady
Multiplayer has wished Brady a happy birthday on Saturday. Eric Ebron made a birthday wish to Brady
TOM BRADY GETS HILARIOUS BIRTHDAY WISHES
Ebron said "IT WOULD BE NICE IF YOU JUST HURRIED UP AND RETIRED SO SOME OF US CAN WIN A SUPER BOWL'
Cohen said "YOU NEED TO RETIRE SO SOMEONE ELSE CAN WIN A CHAMPIONSHIP"
His wife Gisele who referred to Tom as the avocado to my toast also wishes him and said "HAPPY BIRTHDAY TO the LOVE OF MY LIFE. LIFE IS SO MUCH BETTER BECAUSE WE CAN SHARE IT WITH YOU. THANK YOU FOR BEING OUR ROCK AND THE AVOCADO TO MY TOAST. WE LOVE YOU.
Gronk wished him and wrote "NOW I AM RETIRED, YOU NEED TO CARRY ME"
HAPPY BIRTHDAY TOM BRADY.
 YOU MAY ALSO LIKE-