As we know, due to Coronavirus, face mask has become very important. But getting a face mask in the market has become very difficult at this time, due to which people are making face masks at their homes or taking help from where they can get it. There is a special mask used by dosctors called N95 Respirators.
Some Most Common Questions asked
What is CoronaVirus?


The CoronaVirus is an infectious disease that spreads through CoronaVirus. The disease that is being spread through the CoronaVirus is called Covid-19.

What are the symptoms of CoronaVirus?

Cough, Fever, Shortness of Breath are some symptoms of CoronaVirus. But in some cases, Fatigue and joint pain are also found.
Runny nose, sneezing, mucus or phlegm are not the symptoms of CoronaVirus.
Learn More about symptoms in details here- [CORONAVIRUS TIPS] How to stay safe from COVID – 19?

What should I do if I have symptoms of CoronaVirus?

If you have those system then go to Quarantine with you family for 14 days. To recover fast, Drink lots of water and take rest. If you feel uncomfortable then you can take Paracetamol and contact with your doctor.
Don't forget to Use face mask, wash your hand regularly, don't touch your face with your hands. This way you can protect yourself and your family from getting infected.
You can learn more about this from here- [CORONAVIRUS TIPS] How to stay safe from COVID – 19?

Can Face Mask Protect Us From CoronaVirus?

The CoronaVirus enters the body through nose, mouth, eyes and aerosol holes inside the body. Cough droplets can enter the body through the mouth or nose which is the most common way of spreading the infection.
Face mask can protects us not to enter the cough droplets in body through mouth or nose.

What is face mask n95 respirators?

Face marks n95 respirators are mostly worn by doctors or nurses.

Is N95 Respirators are the Best Face Mask?

The N95 aspirator worn by doctors nurses and other medical workers can carry the virus. They are used only once, which means we can't reuse this mask.
N95 respirators face mask are better than other face mask because they are very low in cost and are discarded once worn.
Other face masks as comparison of N95 aspirators are not safe because people use them again and again.

Why can't the N95 respirator face masks be used again?

N95 respirators cannot be used again because anyone who has worn N95 aspirators may come into contact with any infected person. If the virus remains anywhere on the face mask, then using it again may cause the virus to enter the body.
For this reason, N95 Respirators face masks can't be used again.
Some special features of N95 Respirators face mask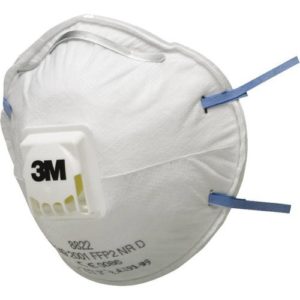 Tied on the mouth like any other surgical mask behind the head.
Seasled from Surface, nose and mouth. This seal works in such a way that you do not feel any pressure. Air is able to enter and exit easily.
There is a special electrostatically charged membrane in the middle of the N95 aspirator's mass which captures small particles, due to which they are not able to enter the human body.
Surgical Mask
Surgical Mask is the another famous face mask which we common see using all medical staffs. It is also a one time use mask.
This mask is very cheap and easy to wear. But this mask is not so secure as compare to N95 because it doesn't have any seal on it. Due to this air come inside to mask from all directions.
But it also help us to get protect from COVID 19. It has elastic rubber on the end of mask on both side which help to hold the face on face by using that elastic rubber on our ear.
Precautions during using Surgical Mask
The elastic rubber should be not so tight otherwise it will start hurting your ear.
Don't use this mask more than one time.
It can be used by all age of peoples.
Its comfortable to wear.
Easily available and low in cost.