The Journey (Journey: Taiko Arabia Hant de no Kiseki to Tatakai no Monogatari), an animated collaborative film from Manga Productions and Toei Animation, has been streaming on Crunchyroll with an English version since Thursday.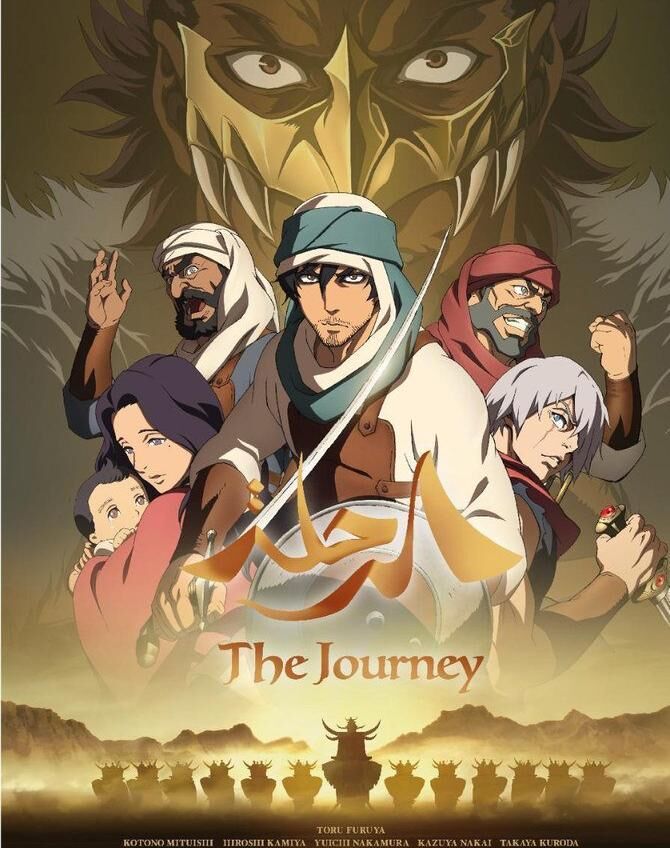 It was originally revealed by Crunchyroll that it will start streaming the movie this past spring.
On April 12, the movie made its North American debut in Hollywood, California's Grauman's Chinese Theatre.
Chris Judge, Johnny Yong Bosch, Jennie Kwan, Bryce Papenbrook, Alejandro Saab, Christopher Sabat, Steve Blum, Hesham Elshazly, Cedric Williams, and Hussein Mohammed are the actors in the movie's English dub.
Instead of premiering in 2020 as originally planned, the movie debuted in Japan in June 2021. The movie, according to Manga Productions, is
Mecca's peaceful citizens risk being enslaved and destroyed by an advancing army. One of the few prepared to stand up against the overwhelming invading army to save their country is Aws, a seemingly ordinary potter. However, his troubled background comes to light when he meets a long-lost buddy he had assumed was dead.
The Middle East and North Africa (MENA) region's VOX Cinemas, Japan's T-Joy, and six European nations' Plaion Pictures (previously Koch Media) have all secured theatrical distribution agreements with Manga Productions for the film.
The film's Japanese cast includes:
The film was produced by Atsuhiro Tomioka (Pokémon films) and directed by Kobun Shizuno (Detective Conan films). The principal character designer for the movie was Tatsuro Iwamoto (games in the Phoenix Wright: Ace Attorney series), while Kaoru Wada (Ninja Scroll, Saint Seiya: The Lost Canvas, Inuyasha, Ace Attorney) created the soundtrack. (Manga Productions has offices in Riyadh and Tokyo.) The firms created the movie in both Saudi Arabia and Japan. The movie's international distribution rights are owned by Manga Productions, who also provided all of the funding.
The "The Woodcutter's Treasure" short and the Future's Folktales series, the latter of which is gaining a second season, are two anime projects on which Manga Productions and Toei Animation have previously worked together.
Crown Prince Mohammed bin Salman of Saudi Arabia is the namesake of Manga Productions, a division of the Prince Mohammed bin Salman Foundation, popularly known as MiSK. The business wants to produce cartoons, comics, and video games to "spread Saudi ideals and messages abroad." MiSK and Japan's Digital Hollywood University inked an agreement in October 2017 to teach Saudi designers and programmers in the creation of animation and video games. In 2011, MiSK was founded by Crown Prince Mohammed bin Salman.
The U.S. Office of the Director of National Intelligence determined in February 2021 that Jamal Khashoggi's assassination or arrest in Istanbul, Turkey, was authorised by Crown Prince Mohammed bin Salman. Before his murder in 2018, Khashoggi was a Saudi journalist who moved to the United States and worked for The Washington Post. The Saudi leadership "totally rejected[ed]" the U.S. evaluation. Additionally, Crown Prince Mohammed bin Salman has come under fire for his repression of dissident voices and for waging a war in Yemen that resulted in a humanitarian catastrophe. He has received mixed reviews for lifting the prohibition on female drivers in 2018.
Update: Plaion Pictures has replaced Koch Media as the name of the company.
TheBeron, many thanks. from Koch Media