THIS IS THE SECOND AMERICA MASS SHOOTING IN 24 HOURS AND THIRD IN A WEEK. POLICE SAID 9 PEOPLE WERE KILLED, AND 27 ARE WOUNDED.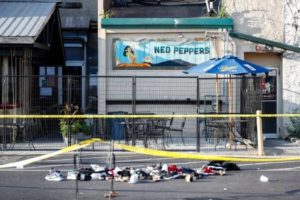 Police identified all 9 victims killed in a mass shooting in Dayton, Ohio, on Sunday early morning.
Police said that the shooter was killed at the crime scene were 24 years old age is Connor Bettes. The shooter killed four women, and five men are having age between 22 to 57. Police identified one of the victims as the sister of Connor Bettes, whose name is Megan Betts.
The name of 9 people who were dead are Lois L. Oglesby (27-year-old), Megan K Betts (22-year-old), Saeed Saleh (38 years old), Derrick R Fudge (57-year-old), Logan M Turner (30 years old), Nicholas P. Cumer (25 years old), Thomas J. McNichols (25 years old), Beatrice N. Warren – Curtis (36-year-old), Monica E. Brickhouse (39 years ago)
YOU MAY ALSO LIKE-