Drifting Home (Ame o Tsugeru Hyry Danchi), a brand-new anime movie in its entirety from Studio Colorido, is scheduled for release on September 16 in India according to Netflix. The forthcoming anime series Cyberpunk: Edgerunners, created by Studio Trigger and based on the video game Cyberpunk 2077 by CD PROJEKT RED, is also listed for distribution in India but no release date has been set.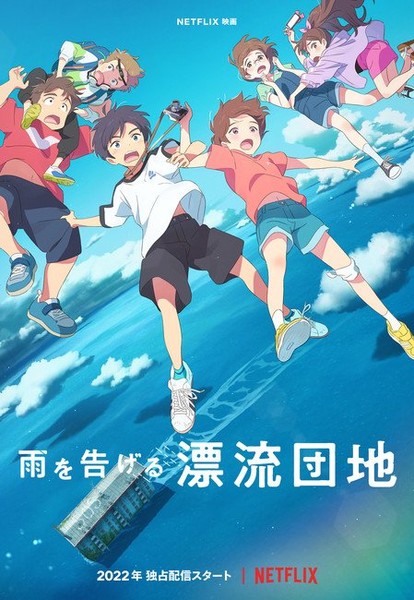 Drifting Home stars:
Mutsumi Tamura as Kōsuke Kumagaya
Asami Seto as Natsume Tonai
Ayumu Murase as Noppo
Daiki Yamashita as Yuzuru Tachibana
Yumiko Kobayashi as Taishi Koiwai
Inori Minase as Reina Haba
Kana Hanazawa as Juri Andō
Yasuji Kumagaya, played by actor Bin Shimada, is Ksuke's grandpa and treats Natsume as if she were his own granddaughter. Natsume's mother, Satoko Tonai, is portrayed by Nana Mizuki.
On September 16, the movie will be available on Netflix in every country. Starting on the same day, the movie will also be shown in theatres in Japan. The movie will be Studio Colorido's third full-length anime production.
The anime is being produced by Hayashi Mori (Cells at Work! Code Black, Layton Mystery Tanteisha: Katori no Nazotoki File), Minaka Sakamoto, and Hiroyasu Ishida (Penguin Highway, Fumiko's Confession) (Babylon). The characters are being created by Akihiro Nagae (Fastening Days), with help from Fumi Kat (Animation Director, Penguin Highway). The soundtrack is being written by Umitar Abe (Penguin Highway). In charge of planning is Twin Engine. The film's theme tune, "Kieteshimai S Desu" (It Seems I'm Fading Away), as well as the anime's insert song, "Natsugare" (Summer Slump), will both be performed by Zutto Mayonaka de Iinoni. (ZUTOMAYO).
Ksuke and his childhood buddy Natsume are the main characters in the anime "adventure fantasy as summer closes." Recently having reached sixth grade, the two have begun to shun one another as their friendship enters an uncomfortable stage. They visit the apartment complex where the two of them formerly resided one day while on summer vacation, which is due to be destroyed. The entire structure is suddenly encircled by an ocean as Ksuke, Natsume, and their pals become entangled in a bizarre phenomena. From the swaying building, the group of pals must attempt to navigate their way home.
The Netflix animation Cyberpunk: Edgerunners is slated to debut in September.
The anime at Trigger is being directed by Hiroyuki Imaishi (Gurren Lagann, Kill la Kill, Promare), while the character designer and animation director is Yoh Yoshinari (Little Witch Academia, BNA: Brand New Animal). Akira Yamaoka (Silent Hill games) will be the music composer, Hiromi Wakabayashi (Kill la Kill, Promare) will serve as the creative director, Yoshiki Usa (SSSS.Gridman, SSSS.Dynazenon creative director), Masahiko Otsuka (Star Wars: Visions 'The Elder'), Hiroyuki Kaneko will serve as the assistant director, Yto Kaneko and Yusuke
The opening theme will be the rock song "This Fffire" by the band Franz Ferdinand.
The English dub's David Martinez will be portrayed by Zach Aguilar.
Along with Dylan Thomas, Taiki Sakurai, and Yoshiki Usa, Rafa Jaki serves as both the show's creator and executive producer. Producers include Saya Elder, Satoru Homma, and Bartosz Sztybor.
The anime, according to Netflix:
A street boy striving to live in Night Metropolis, a technologically advanced and body modification-obsessed city of the future, is the subject of the 10-episode series. Since he stands to lose everything, he turns becomes an edgerunner, a mercenary criminal also known as a cyberpunk, in order to survive.
For the PlayStation 4, Xbox One, and PC in November 2020, CD Projekt launched the "open-world, action-adventure tale."