The Fairview Fire southeast of Hemet, which is quickly expanding toward the west in the sweltering heat, has claimed the lives of two individuals and wounded another.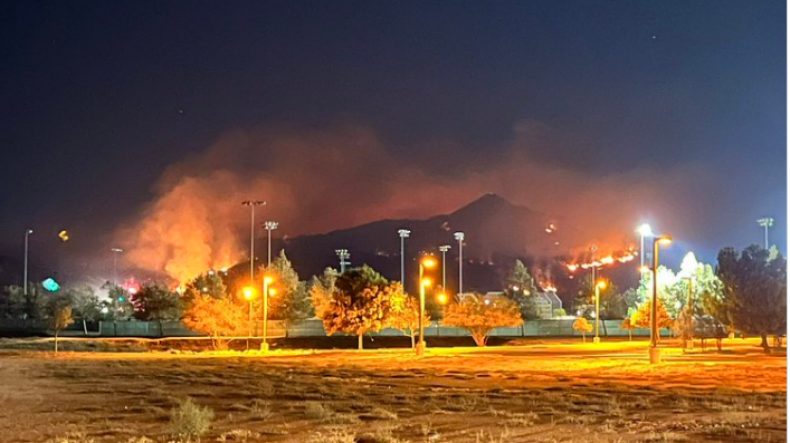 2,000 acres have been added to the Fairview Fire as of Monday night.
Around 4 p.m. on Monday, Cal Fire first received a report of the Fairview Fire, which was burning close to the intersection of Fairview Avenue and Bautista Road in an unincorporated area close to Hemet.
The fire was rapidly spreading at 4:50 p.m. and had expanded to a size of around 500 acres.
As of 10 p.m. on Monday, the fire had consumed 2,000 acres and was just 5 percent contained.
Two deaths and one injury have been verified by Cal Fire.
The number of damaged and destroyed structures totals seven.
Just after 5 o'clock in the afternoon, video from a KABC-Los Angeles chopper appeared to reveal a number of burning residential buildings.
The first order of evacuation covered 1,584 residences in the region roughly bounded by State Street to the west, Thornton Avenue to the north, Fairview Avenue to the east, and Polly Butte Road to the south.
The region south of Stetson Avenue, north of Cactus Valley Road, west of Fairview Avenue, and east of State Street are now included in the evacuation order that was initially issued on Monday evening.
Tahquitz High School, 4425 Titan Trail in Hemet, is a care and reception location.
As of Monday evening at six o'clock, a few hundred firemen were present.
The National Weather Service's San Diego office reports that the Fairview Fire region is now experiencing extremely hot, dry, and windy conditions, with winds predicted to subside this evening. Overnight, though, it's anticipated that the weather will be warm and dry.
The San Bernardino National Forest had another fire Monday afternoon close to Big Bear. According to San Bernardino National Forest, the Radford Fire was consuming 50 acres on Monday at roughly 5:15 p.m., had zero percent control, and had 140 people assigned to fighting it.
With 0% containment as of 7:15 p.m., the fire had expanded to 200 acres.
According to the Yucaipa Police Department, there has been a need for evacuation from Glass Road to South Fork River Road.
CalTrans reports that from Mill Creek Road to Lakewood Road, State Route 38 is temporarily blocked in both directions.