The fifth season of the Tenchi Muyo! Ryo Ohki Original video anime ( OVA ) searies has been revealed on friday. This season trailer has been released and the trailer is here-
5th Tenchi Muyo! OVA Season's Promo Video
About 5th Tenchi Muyo! OVA Season's
The 5th Tenchi Muyo! OVA Season's will be having total six total home video releases.
5th Tenchi Muyo! OVA Season's Release Date
The release date of 5th Tenchi Muyo! OVA Season's will be of February 28, 2020.
The rest of the released will be postponed to May 29, 2020, August 28, 2020, November 27, 2020, February 26, 2021 and May 28, 2021.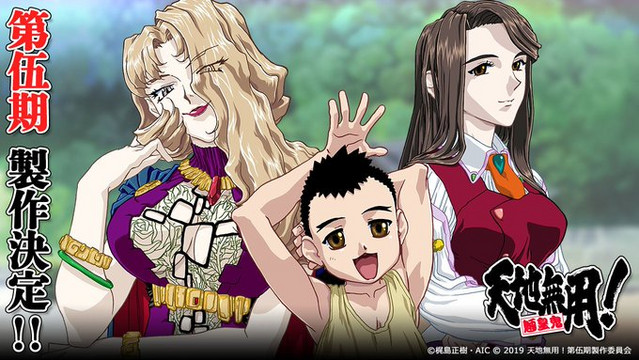 5th Tenchi Muyo! OVA Season's Cast
The director of the anime is Keitaro Motonaga. A-Line ir credited for collaborating on animation production.
Sayuri Sakimoto is the animation character designer and chief animation director.
Masaki Kajishima is again credited as the original creator, original character designer and as chief director.
Writing and overseeing the series scripts has been done my Hideki Shirane and the sound director us Yasunori Honda.
The anime's ending theme song will be performed by Kaori Oda.
The 5th Tenchi Muyo! OVA Season's anime stars:
Masami Kikuchi as Tenchi Masaki
Ai Orikasa as Ryōko
Haruhi Nanao as Aeka Masaki Jurai
Chisa Yokoyama as Sasami Masaki Jurai
Michie Tomizawa as Mihoshi Kuramitsui
Yūko Kobayashi as Washū Hakubi
Naomi Shindoh as Noike Kamiki Jurai
Etsuko Kozakura as Ryo-Ohki
Yukiko Morishita as Kenshi Masaki
Katsuyuki Konishi as Nobuyuki Masaki
Rio Natsuki as Reia Masaki
Emi Shinohara as Tennyo Masaki
Yumi Touma as Tokimi
Kumi Sakuma as Kiriko Masaki
Shiho Kawaragi as Karen
Ryoka Yuzuki as Jovia Jovis
History Of Tenchi Muyo! OVA Season's
The original title of the 5th Tenchi Muyo! OVA Season's is Tenchi Muyo! Ryo Ohki which was released in 1992 ova series and with numerous sequels and spinoffs has been show to us.
The Tenchi Muyo! Imatsuri Zenjitsu No Yoru! ( first season ), Tenchi Muyo! Ryo Ohki Dai-2-Ki ( Second Season ) and Tenchi Muyo! Ryo Ohki Dai-3-ki ( Third Season ) was released earlier.
In 2016 Tenchi Muyo! Ohki Dai-4-Ki ( Fourth Season ) , the fourth OVA has been released after 11 years. The third season was releaased on 2005.
The fourth and final episode of the fourth season was released on September 2017.