DONALD TRUMPS SAID "
 HOW THE INTERNET HAS PROVIDED A DANGEROUS AVENUE TO RADICALIZE DISTURBED MINDS AND PERFORM DEMENTED ACTS"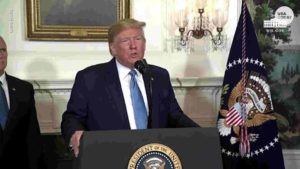 Two mass shootings occur in the USA. One in Ohio and the other in Texas. In these incidents, 31 people got killed and 100 people got injured. In a conference, Donald Trump blames games for these incidents.
Donald Trump said "YOUTH GOT EASILY SURROUNDED WITH A CULTURE THAT CELEBRATE VIOLENCE" 

He also said that the technology and social media should need to develop a tool which helps us to detect mass shooter while their planning.
Four companies, Facebook, You tube, Microsoft, Twitter have started to take steps to counter the threat of terrorism. Later theses four companies came together to form the Global Internet Forum to counter Terrorism (GIFCT)



YOU MAY ALSO LIKE-