Are You The Only One Who Loves Me? Season 2 Official Trailer
Watch Oresuki "ORE WO SUKI NA NO WA OMAE DAKE" (ARE YOU THE ONLY ONE WHO LOVES ME?) season 2 official trailer, cast, staff and plot here.
Are You The Only One Who Loves Me? Description
In live streaming Aniplex 48 hours TV program tweet a new video of the upcoming Anime ORE WO SUKI NA NO WA OMAE DAKE KA YO ( ARE YOU THE ONLY ONES WHO LOVES ME? ). They also announced the main stuff, cast and release date of it.
Plot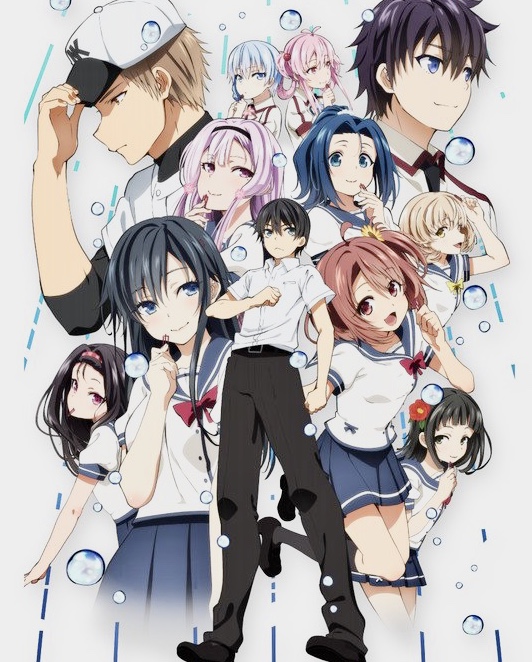 ARE YOU THE ONLY ONES WHO LOVES ME? is about a boy who is in high school and he is a perfect human who can do anything. Because of his qualities , all girls fall in love with him. The story will get more interesting when more than one girl fall in love with him deeply.
ARE YOU THE ONLY ONES WHO LOVES ME? is a romantic comedy anime. Amatsuyu Kirasagi is the perfect human being who is being invited alone by the beautiful girls of upper – class, and his child friend Himawari.
Amatsuyu is a attractive person that every girl fall in love with him. But the main problem started when girls from upper class man invited him. Cosmos and his childhood friend Himawari both fall in love with his best friend and they confessed their love to him. He doesn't got uncomfortable by this situation. He soon came to know that there is a other girl who has eyes on him. That girl is a gloomy girl with classes and braids. But soon Amatsuyu finds that he hate that Girl because she always turning her sharp tongue only on him. He can see that she was enjoying that he is in troubles. But at the end it turns out that she was the only one who was in love with him.
Director, Writer & Character Designer
NORIAKI AKITAYA is the director of ARE YOU THE ONLY ONES WHO LOVES ME? season 2. Geisei Morita is the assistant director. Shoko Takimoto is the designer of characters and Rakuda is going to write and supervise all scripts.
Staff
Background Studio: Studio TENJIN
Color Design: Ryoko Oka
Director of Photography: Takeshi Hirooka
Photography Studio: Nexus
3D Director: Takeshi Saito
3D CG Studio: Wired
Editing: Kentaro Tsubone
Editing Studio: REAL-T
Sound Director: Fumiyuki Go
Sound Effects: Katsuhiro Nakano
Recording Adjustment: Daiki Hachimaki
Music: Yoshiaki Fujisawa
Music Production: Aniplex
Cast
Daiki Yamashita as Amatsuyu "Jorō" Kisaragi
Haruka Tomatsu as Sumireko "Pansy" Sanshokuin
Haruka Shiraishi as Aoi "Himawari" Hinata
Sachika Misawa as Sakura "Cosmos" Akino
Yūma Uchida as Taiyо̄ "Sun-chan" О̄ga
Shiori Mikami as Hina "Asunaro" Hanetachi
Nao Tōyama as Chiharu "Tsubaki" Yо̄gi
Shuka Saitō as Asaka "Sasanqua" Mayama
Iori Saeki as Kimie "Tampopo" Kamata
Jun Fukuyama as Yasuo "Hose" Hazuki
Risa Taneda as Momo "Cherry" Sakurabara
Konomi Kohara as Luna "Tsukimi" Kusami
Tickets
Tickets will be available in advance. The sale of ticket will be on 10 April in a bundle with A-4 sized clear file folders. The visual above is fully featured in both deposit and the folders.
Novel
The light novel series ARE YOU THE ONLY ONES WHO LOVES ME? was published in February 2016 and his 13th novel was released on December 10. His manga adaptation in website and app was uploaded in February 2017. In October 4, his fourth volume was published.