Does it Count if You Lose Your Virginity to an Android? is an adult, comedy, science fiction and Yuri manga about a Lady Tsuda Akane, 28 years old working in an AI company and her housemaid which is a sex robot also.
Summary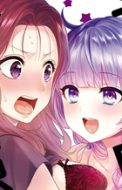 Tsuda Akane, 28 years old lady never dated anyone, lived alone and her all friends live far away from her. She is perfect in her work, and everyone loves her in her office. But after reaching home, she is a mess. One day, after office she started feeling alone while drinking. She thought to buy a maid, but she didn't find any human maid online. After a few days, she received a package, and it was really heavy. Somehow, she managed to bring that package to her room. She was tired because of moving that heavy package and she slept while seeing a dream that she is laying on a girl's chest.
Next day, a naked girl waked her up which was shocking for her. That naked girl was in the parcel she ordered. She tried to look for the buying history, but she can't find that site and now the adventure begins. That AI robot is a sex robot which is made to pleasure its master.
The story and art of Does it Count if You Lose Your Virginity to an Android? manga is done by Yakinikuteishoku. Till now only the first episode is released.