The television anime based on Tite Kubo's Bleach manga's "Thousand Year Blood War" arc, Bleach: Thousand-Year Blood War, will have its North American debut on October 8 at New York Comic Con, according to a tweet from the convention's official account on Friday. The anime will be "simulcast" after the debut, according to NYCC.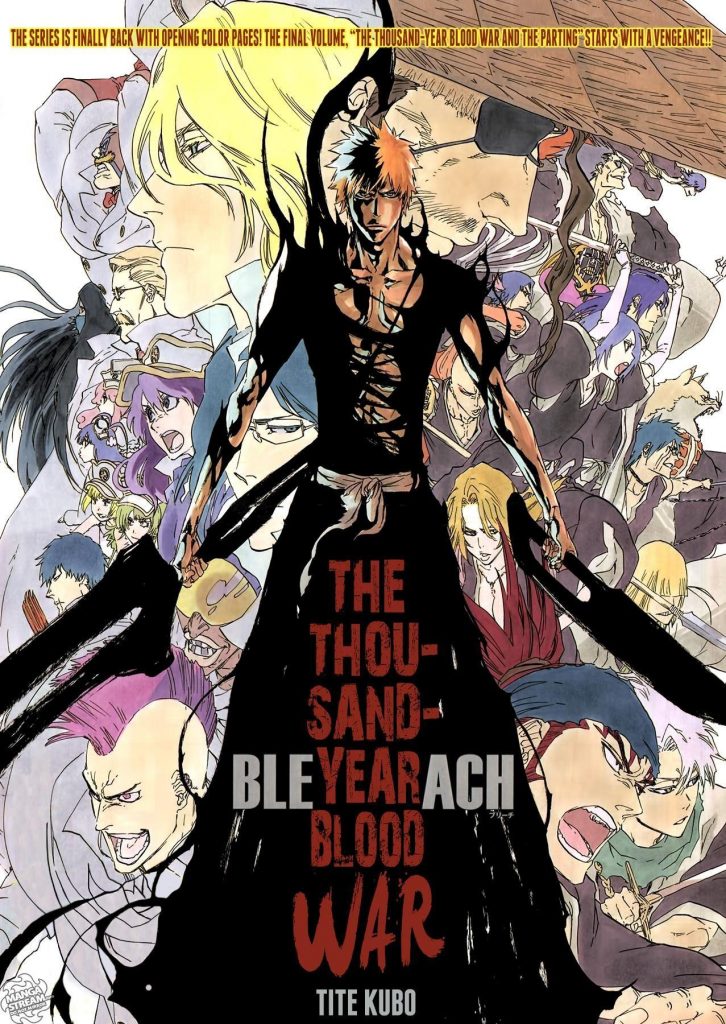 In October, TV Tokyo will broadcast the anime's debut. The remaining chapters of the original manga up until its conclusion are covered by the anime.
The first two episodes will be screened in advance on September 11 in Tokyo.
Noriyuki Abe has been replaced as the anime's director at Studio Pierrot by Tomohisa Taguchi (Twin Star Exorcists, Kino's Journey: The Beautiful World, Akudama Drive). Along with Masaki Hiramatsu, Taguchi is in charge of the series' writing. Masashi Kudo is back as the character designer, while Shiro Sagisu is back as the music director.
Additional employees include:
Chief Animation Directors: Michio Hasegawa Sei Komatsubara, Kumiko Takayanagi
Action Effects Animation Directors: Satoshi Sakai, Yoshihiro Kanno, Yong Hoon Chong
Art Director: Yoshio Tanioka
Art Design: Toshiki Amada
Color Design: Saori Goda
Editing: Akinori Mishima
Director of Photography: Kazuhiro Yamada
CG Directors: Toshihiro Sasaki, Kazushi Goto
Sound Director: Yukio Nagasaki
Sound Production: Zack Promotion
The cast includes:
Masakazu Morita as Ichigo Kurosaki
Fumiko Orikasa as Rukia Kuchiki
Noriaki Sugiyama as Uryū Ishida
Yuki Matsuoka as Orihime Inoue
Hiroki Yasumoto as Yasutora Sado
Kentaro Ito as Renji Abarai
Shinichiro Miki as Kisuke Urahara
Satsuki Yukino as Yoruichi Shihōin
Binbin Takaoka (replacing Masaaki Tsukada) as Genryūsai Shigekuni Yamamoto
Houko Kuwashima as Suì-Fēng
Shouto Kashii as Rōjūrō Ōtoribashi
Aya Hisakawa as Retsu Unohana
Masaya Onosaka as Shinji Hirako
Ryotaro Okiayu as Byakuya Kuchiki
Tetsu Inada as Sajin Komamura
Akio Ohtsuka as Shunsui Kyōraku
Tomokazu Sugita as Kensei Muguruma
Romi Park as Tōshirō Hitsugaya
Fumihiko Tachiki as Kenpachi Zaraki
Ryusei Nakao as Mayuri Kurotsuchi
Hideo Ishikawa as Jūshirō Ukitake
Naomi Kusumi as Ichibē Hyōsube
Yōji Ueda as Ōetsu Mimaiya
Tomoyuki Shimura as Tenjirō Kirinji
Rina Satou as Senjumaru Shutara
Ayumi Tsunematsu as Kirio Hikifune
Takayuki Sugo as Yhwach
Yuichiro Umehara as Jugram Haschwalth
Shunsuke Takeuchi as Askin Nakk Le Vaar
Ayana Taketatsu as Bambietta Basterbine
Yūki Ono as Bazz-B
Yumi Uchiyama as Candice Catnipp
Natsuki Hanae as Gremmy Thoumeaux
Satoshi Hino as Lille Barro
Daiki Yamashita as Ryūnosuke Yuki
Asami Seto as Shino Madarame
Yoshitsugu Matsuoka as Äs Nödt
Kōichi Yamadera as Quilge Opie
Hideyuki Tanaka as BG9
Takaya Hashi as Robert Accutrone
Nobuaki Kanemitsu as Driscoll Berci
Yasuhiro Mamiya as Mask De Masculine
Tomoaki Maeno as NaNaNa Najahkoop
The cast of the programme also includes actors who haven't been in the anime but are repeating their roles from the video game Bleach: Brave Souls.
The Thousand Year Blood War arc, which spans volumes 55 to 74, is the manga's concluding arc.
In August 2016, Kubo announced the conclusion of Bleach, which he had begun in Weekly Shonen Jump in 2001.
As Shueisha released new chapters in Japan, Viz Media released the manga digitally in North America in English.
The manga was also printed by Viz Media.
The manga served as the basis for a 366-episode television anime series that lasted from 2004 to 2012. The anime's home video and television broadcasting rights were acquired by Viz Media in 2006. The show debuted with an English version on Cartoon Network's Adult Swim that same year, and all episodes were finally broadcast by 2014. Four movies and two OVAs are also part of the anime series.
In addition, the brand has sparked stage plays, novels, computer games, and a live-action movie that debuted in July 2018.
The most current video game featuring Kubo's character designs is called Sakura Wars (Shin Sakura Taisen in Japanese).